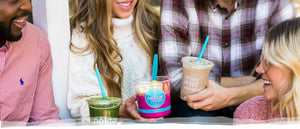 Live life
to the
freshest.
WHAT DOES IT MEAN TO LIVE THE NÉKTER LIFE?
It's more than a hashtag – it's about embracing healthy living as a sustainable lifestyle, not as something that comes and goes. Whether you're taking your first steps to healthier living or continuing down that path, Nékter will help you transform your lifestyle. The journey is yours for the taking.
OUR PRODUCTS
Nékter products are designed to optimize overall health and wellness by feeding the body with essential vitamins and nutrients. We use fresh, natural, and raw ingredients to maintain the integrity of our menu – you are always eating clean at Nékter.
OUR TEAM MEMBERS
The Nékter team is knowledgeable, friendly, and devoted to supporting you on your path to a healthier lifestyle. Our welcoming and encouraging energy is a reflection of our passionate team members.
OUR GUESTS
We are committed to our customers' well-being. Our guests inspire us every day to continue supporting a healthy and vibrant lifestyle. First time stopping in? Welcome to Nékter!
OUR COMMUNITIES
Our involvement with our local communities is the heart and soul of our company. We strive to unite our people through positive, healthy actions and exceptional products.
ABOUT US
Nékter Juice Bar was born in 2010 with the idea that "healthy" can be affordable, taste good, and feel good too. We envisioned a place where people could ease into their days gently, instead of being jolted into wakefulness by processed sugars and artificial flavors.
We use fresh, natural, and whole ingredients in our handcrafted and freshly-made juices, superfood smoothies, and açaí bowls to make sure your cup is always buzzing with the most energizing and nutrient-rich ingredients.
We opened our first Nékter in Costa Mesa, California, and have since shared the Nekter experience with communities all over the U.S. As we've grown, our passion to provide a healthy foundation for people to live and feel better has fueled us, and we can't wait to share the Nékter Life with you!
Follow us @nekterjuicebar and show us how you #livethenekterlife